The North Caucasus region is known as the Ciscaucasus, whereas the South Caucasus region is commonly known as the Transcaucasus.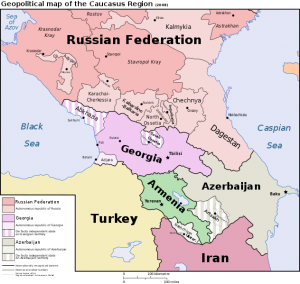 The Ciscaucasus contains most of the Greater Caucasus mountain range. It consists of Southern Russia, mainly the North Caucasian Federal District's autonomous republics, and the northernmost parts of Georgia and Azerbaijan. The Ciscaucasus lies between the Black Sea to its west, the Caspian Sea to its east, and borders the Southern Federal District to its north. The two Federal Districts are collectively referred to as "Southern Russia."
The Transcaucasus borders the Greater Caucasus range and Southern Russia to its north, the Black Sea and Turkey to its west, the Caspian Sea to its east, and Iran to its south. It contains the Lesser Caucasus mountain range and surrounding lowlands. All of Armenia, Azerbaijan (excluding the northernmost parts) and Georgia (excluding the northernmost parts) are in the South Caucasus.
The watershed along the Greater Caucasus range is generally perceived to be the dividing line between Europe and Southwest Asia. The highest peak in the Caucasus is Mount Elbrus (5,642 meters) located in western Ciscaucasus, and is considered as the highest point in Europe.
The Caucasus is one of the most linguistically and culturally diverse regions on Earth. The nation states that comprise the Caucasus today are the post-Soviet states Georgia (including Adjara and Abkhazia), Azerbaijan (including Nakhchivan), Armenia, and the Russian Federation. The Russian divisions include Dagestan, Chechnya, Ingushetia, North Ossetia–Alania, Kabardino–Balkaria, Karachay–Cherkessia, Adygea, Krasnodar Krai and Stavropol Krai, in clockwise order.
Three territories in the region claim independence but are recognized as such by only a handful of entities: Artsakh, Abkhazia and South Ossetia. Abkhazia and South Ossetia are recognized by the world community as part of Georgia, and Artsakh as part of Azerbaijan.